Welcome

Welcome! Sign Language Interpreting Services is committed to providing quality communication access in the Bryan-College Station area of central Texas. All full-time interpreters working with S.L.I.S are nationally and/or state certified.
For feedback from some of our clients, please see the Testimonials page.
SLIS Interpreter Mentoring Program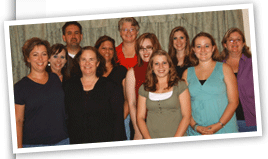 SLIS is now focusing its efforts on improving its interpreters' skills. SLIS is dedicated to helping graduates from interpreter training programs who have not yet obtained certification, as well as, certified interpreters who are eager to improve their skills to reach higher levels of certification.

Mentees benefit from shadowing highly skilled interpreters, teaming with qualified interpreters, and meeting weekly with our Professional Development Specialist. Our current Professional Development Specialist is a Certified Deaf Interpreter (CDI) who also has many years experience teaching ASL. With this individualized instruction targeted at specific weaknesses, Mentees can improve their skills dramatically in a short amount of time.
Sign Language Interpreting

Services We Provide
American Sign Language / English Interpreting Services
Video Remote Interpreting (VRI)
English / English Based Sign Language Transliteration
Transcription (Spoken English to English text)
Remote Transcription (TypeWell)
English / American Sign Language Translation
Theatrical / Special Event Translation and Presentation
Tactile interpreting
Sensitivity Training
Service area includes Bryan-College Station, Texas; the Brazos Valley and surrounding areas.